Artificial Turf Cleaning and Artificial Turf Repair in Jupiter, FL
Keep your artificial lawn looking its best with our cleaning services
TurfDoctor is the top artificial turf repair and installation service in Jupiter, FL, earning hundreds of five-star reviews on social media pages and independent websites annually. Our synthetic lawn maintenance teams know how to care for your drought-resistant grass blades with state-of-the-art equipment and first-rate technical expertise.
TurfDoctor is the top resource for artificial turf repair and cleaning services for Jupiter homes, businesses, and community spaces.

Why TurfDoctor?
Whether you need a replacement piece to patch up your artificial lawn or sanitation services to remove residue, TurfDoctor is your first choice. We can repair damaged artificial grass on residential and commercial properties for cost-efficient prices. Our knowledgeable crew helps residents and business owners looking for high-quality artificial turf maintenance with a low price tag.
Ensure that your artificial turf stays in top shape. Trust the experts at TurfDoctor for all of your synthetic turf needs. Contact us today to learn more about how to maintain your artificial lawn.
CALL NOW
Synthetic Turf Cleaning in Jupiter, FL
Artificial turf repair is one of our most requested services at TurfDoctor because business owners and residents are fond of delaying maintenance until cracks and bald spots become prominent on their synthetic lawns. Many people install AstroTurf because they want the benefits of natural grass without mowing, fertilizing, and mowing monthly. Artificial turf is famous for its durability and maintenance-free benefits, offering drought resistance and the ability to survive adverse weather.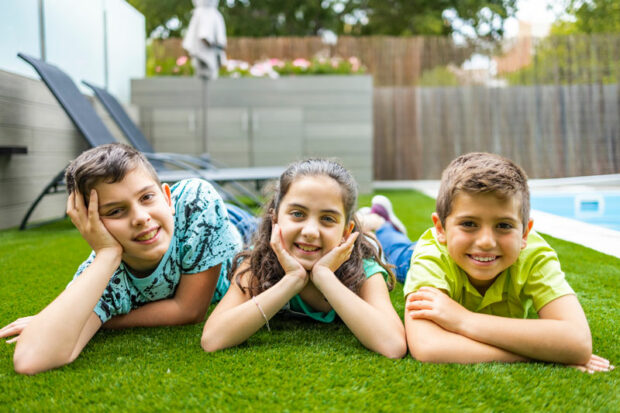 However, artificial grass can sustain damage, stains, and discoloration from the activities of humans and surrounding wildlife. We conduct artificial turf repair in Jupiter, FL for lawns with damage from:
Heat and fire sources, such as cigarettes, fire pits, and barbecues
Chemical spills from oil spills, pesticides, and artificial fertilizers
Sharp and heavy objects, like outdoor furniture, gardening tools, and cooking utensils
Paint spills
And many more
Synthetic turf is resistant to acid and decay from human and animal waste, but bird droppings and pet activity can still leave nasty stains. Contact our artificial turf cleaning crew for stain and discoloration removal with OxyTurf cleaners.
Synthetic Turf and Artificial Turf Maintenance in Jupiter, Florida
Our artificial turf repair specialists can detect damage on your lawn during cleaning and recommend the most affordable fixes. Synthetic turf is almost always the focal point of front and backyards and many indoor and outdoor spaces. Traces of damage can ruin the look of an entire room.
Contact us today for a free quote on artificial turf repair with no hidden charges.
Jupiter, FL is home to over 61,000 residents sharing 20 square miles of land. It has been providing sailors access to the Atlantic Ocean since the mid-1500s, making it a famous port for merchants and explorers. Jupiter has a tropical rainforest climate that is highly suitable for gardening. However, hot summers can make maintaining traditional grass extremely difficult. If you love the look of a perfectly green yard but do not have the time or means to maintain it, speak with TurfDoctor to explore your options in fake grass.
Customer Reviews
What People Are Saying about TurfDoctor
"We've got 2 German Shepherds, all the hair, odor and waste are all gone!"

"Our turf looks like the first day it was installed! These guys are so professional and get the job done!"

"We tried everything to get our turf to smell fresh, nothing worked, the TurfDoctor's made our turf look and smell fresh instantly!"

"If you want your turf to look like the first day you got it? Call the TurfDoctor's!"

"Had another quarterly service, we are so happy with TurfDoctor!"

"I never write reviews, but I tried everything to make my turf look and smell fresh. Nothing worked. THESE GUYS WORK! Highly recommend them."
Contact TurfDoctor Today!
You Need Service? Count on TurfDoctor, we make your green instantly clean so you can get back to enjoying your artificial grass again. Send us a message, and we will respond as quickly as possible.
Call Us at TurfDoctor Today
Call us at 1-888-988-7336 to get started with TurfDoctor's artificial grass installation, repair, or cleaning services.
We bring your vision to life!