Artificial Turf Installation for School Play Yards and Community Playgrounds in Lantana, Palm Beach Gardens, Wellington, Delray Beach, Boca Raton, FL, and the Surrounding Areas
Artificial turf for commercial play yards has become a popular choice across in Lantana, Boca Raton, Wellington, Palm Beach Gardens, Delray Beach, Boynton Beach, and the surrounding areas. This material offers numerous benefits over other playground surface materials without sacrificing the attractive, fresh appearance of natural grass.
Artificial Turf for Playgrounds
At TurfDoctor, we offer professional installation, maintenance, repairs, and cleaning for artificial turf playgrounds. We can provide the reliable services you need to make the most of your turf investment and enjoy the benefits of artificial turf for years to come.
Playgrounds should be for playing, not working. Artificial turf is an excellent solution to provide a surface that's easy to clean and maintain. Increasingly we are seeing grade school faculty and municipalities turn to artificial turf for use in playgrounds. Artificial grass has a cushioned surface providing safer play and boasts low maintenance.
CALL 888-988-7336
A Safer Playground with Artificial Turf Installation
A few bumps and bruises are a given in any playground, no matter the precautions and safety guidelines in place. Artificial turf in playgrounds offers another solution to aid schools and municipalities to protect against perceived negligence and alleviate the stress of playground design teams.
Artificial Turf As A Playground Surface
Artificial turf for playgrounds is an alternative for deteriorating mulches, eroding sand, and hot rubber surfaces. A system specifically designed for artificial turf on playgrounds is used by compacting soil on top of a small aggregate with an "impact layer" which provides a bit of rubber cushion that sand or mulch would typically serve.
The natural aesthetic that artificial grass provides on playgrounds provide a beautiful and functional landscape that needs no watering, pesticides, or mowing. Making artificial turf the top choice in playgrounds.
Artificial Turf Installation for Play Yards and Playgrounds
Dozens of commercial playgrounds across Florida have switched their surface materials to artificial turf in the past few years. Installing synthetic grass on play yards is the superior choice for several reasons:
Safety: Artificial turf provides more cushioning than gravel, mulch, or rubber, helping to prevent injuries and potential lawsuits.
Minimal maintenance: Artificial turf is easy to clean and maintain with the help of a professional turf company like TurfDoctor.
Attractiveness: Artificial turf resembles natural grass, maintaining a fresh, lush appearance for your playground.
Allergen-friendliness: Unlike grass and other natural lawn materials, synthetic grass minimizes allergens like pollen, creating a more comfortable playing experience.
Durability: Artificial grass lawns can withstand harsh weather conditions with ease. These systems also include drainage mechanisms to prevent puddles, mud, and waterlogging.
Artificial Turf Maintenance & Repairs
Artificial turf requires little maintenance compared to other playground surface materials. However, like any outdoor surface, turf can become contaminated with debris, dirt, rocks, and other materials. This debris can clog the drainage mechanisms in the turf.
As a result, we recommend scheduling regular maintenance appointments with our TurfDoctor team. We use special tools to clear debris and ensure that your turf drainage works properly. We'll also inspect the turf closely for damage and repair any problems during your maintenance appointment, maximizing the material's lifespan.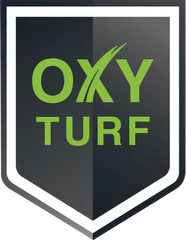 Artificial Turf Cleaning Powered by OxyTurf
We use OxyTurf to eliminate bacteria, germs, and other contaminants from the turf surface. This powerful turf cleaning product can eliminate 99.9% of bacteria, leaving your turf sanitized and odor-free. This cleaning process is vital for play yards, as kids can spread germs quickly in these areas.
You can trust OxyTurf to remove the following contaminants from your synthetic turf playgrounds:
Covid 19 and CoronaVirus
Influenza A
Staph
MRSA Superbug
HIV
Salmonella
E Coli
Pseudomonas (that cause ear infectious skin rashes)
Listeria Monocytogenes
H1N1
Mildew and Fungus
OxyTurf is our Trusted Playground Disinfectant and Cleaner
Ready to Play with Artificial Turf? Call TurfDoctor Today!
Contact us today at 1-888-988-7336 to learn more about artificial turf for play yards.