Artificial Turf Cleaning in Lantana, FL
The secret to a flawless artificial lawn is professional cleaning
Whether you have artificial turf at a residential or commercial property in Lantana, FL, it can become dirty for various reasons. Leaves and other debris, grime from kids' and guests' shoes, and pet dandruff are just a few substances that can reduce your turf's cleanliness. Over time, the buildup of dirt and grime may cultivate harmful bacteria and viruses on and under your synthetic lawn.
Artificial turf repair and cleaning is the solution when you want to restore your synthetic lawn. At TurfDoctor, we use high-quality equipment and cleaners, such as a synthetic turf cleaner-disinfectant-deodorizer called OxyTurf, to kill bacteria and viruses. Our methods effectively kill fungus, mold, mildew, and 99.9% of bacteria and leave behind a pleasant fresh grass aroma.
TurfDoctor is the top resource for artificial turf repair and cleaning services for Lantana homes, businesses, and community spaces.

Why TurfDoctor?
If your artificial grass requires professional cleaning or repair, turn to the turf specialists at TurfDoctor. With industry experience and proven results, there's no one better to service your artificial lawn.
Ensure that your artificial turf stays in top shape. Trust the experts at TurfDoctor for all of your synthetic turf needs. Contact us today to learn more about how to maintain your artificial lawn.
CALL NOW
Artificial Turf Repair in Lantana, Florida
While walking, running, and other activities can dirty your artificial grass, it can also tear it up and wear it down. A damaged artificial lawn is unsightly and can affect traction and make the surface less safe. The experts at TurfDoctor repair damaged synthetic lawns with a straightforward yet effective technique.
First, we cut out and remove the old and damaged area of your artificial turf. Then, we insert a replacement piece to patch up the lawn and restore its appearance and function. The result is a durable surface that looks and feels as good as new.
Artificial turf repair services from TurfDoctor are both efficient and effective. We'll quickly replace affected areas so you can return to your daily life with a better and safer synthetic lawn.
Artificial Turf Cleaning and Maintenance in Lantana, FL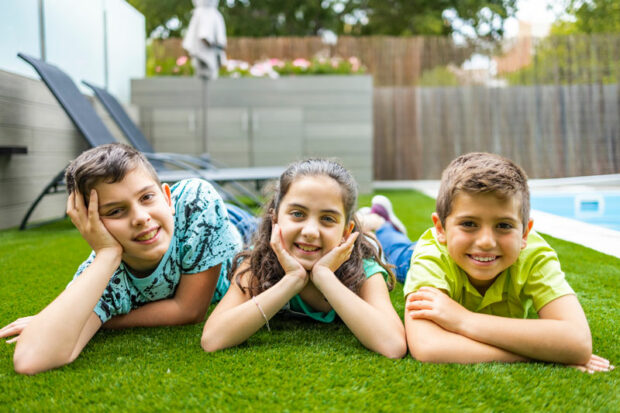 TurfDoctor provides artificial turf repair and cleaning services to various surrounding areas. However, with our main office in Lantana, we're proud to call it our home.
A relatively small but steadily growing town in the Miami metropolitan area, Lantana offers a wonderfully peaceful atmosphere. The friendly community can enjoy a calming stroll in nearby parks or head to the beach to relax. Lantana is home to plenty of beautiful nature, including the namesake lantana flower.
Efficiently restore your synthetic lawn with quality artificial turf repair and cleaning in Lantana, FL. Contact TurfDoctor today to get started.