Artificial Turf Repair and Artificial Turf Cleaning in West Palm Beach, FL
Say goodbye to dirt and damage, make your artificial lawn look like new
At TurfDoctor, artificial turf repair and general synthetic lawn maintenance are two of our most requested services in West Palm Beach, FL. We are the leading providers of artificial grass sanitation and upkeep, offering every type of replacement piece available to repair weather and animal-damaged front and back yards. Whether you need a brand-new artificial lawn or color-corrected grass pieces to patch up your existing one, we are the business to call.
TurfDoctor is the top resource for artificial turf repair and cleaning services for West Palm Beach homes, businesses, and community spaces.

Why TurfDoctor?
Our crew has decades of combined experience in artificial turf cleaning. We sanitize thousands of square feet of synthetic turf for businesses, residences, and public properties, earning five-star reviews on independent websites and online forums every month. We invest in state-of-the-art equipment and technical expertise, saving our clients hundreds of work hours on artificial turf maintenance.
Ensure that your artificial turf stays in top shape. Trust the experts at TurfDoctor for all of your synthetic turf needs. Contact us today to learn more about how to maintain your artificial lawn.
CALL NOW
Artificial Turf Cleaning in West Palm Beach
Unlike natural grass beds, artificial grass does not require watering and rain. It is drought-resistant and the number-one design choice for businesses and homeowners in places like West Palm Beach, which feature dry and humid climates. However, pets, surrounding wildlife, and adverse weather can make artificial turf maintenance challenging, especially for people with busy schedules and disabilities.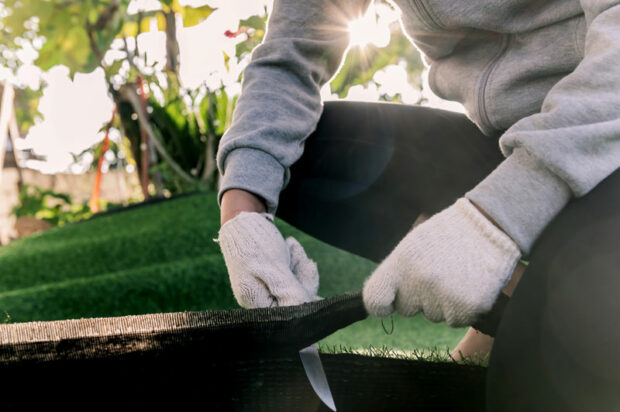 Our turf sanitation specialists became the number-one service in West Palm Beach, FL by following these industry-standard processes:
We never use sharp tools that could tear, cut, or puncture artificial grass.
We do not use harsh acidic chemicals, rather we use a cleaner called OxyTurf designed specifically to remove stubborn objects like dried gum and pet stains on plastic grass.
We never use heat to make artificial turf dry faster.
We have truck-loaded garden vacuums that cut cleaning times in half.
Synthetic Turf and Artificial Turf Maintenance in West Palm Beach, Florida
Synthetic grass is usually the centerpiece of indoor and outdoor living areas, making artificial turf repair an essential landscaping service for many residents and business owners.
We can repair damaged synthetic grass with burns and scrapes from the following sources:
Fire damage from nearby pits, cigarettes, and barbecue grills
Chemical damage from insecticides and artificial fertilizers
Paint stains
Punctures and cuts from gardening tools
And many more
Contact TurfDoctor today for a free quote on artificial turf repair in West Palm Beach, FL.
West Palm Beach has 19 census-designated areas offering thousands of square feet of beachfront. It has a tropical rainforest climate, with ambient temperatures that typically never drop beneath 64 degrees Fahrenheit. The wet season is warm and humid, making mold spores commonplace in yards with synthetic grass.