Artificial Turf Repair and Cleaning in Boynton Beach, Florida
Need help cleaning your artificial lawn? We can take care of it for you.
Just like a natural grass lawn, regular maintenance is vital for artificial turf in Boynton Beach. While synthetic grass doesn't grow or require mowing, it does get dirty and damaged over time. Kids and pets at home, or employees and guests and your commercial property, walk and run on your synthetic lawn, causing wear and tear and leaving behind grime.
TurfDoctor is the top resource for artificial turf repair and cleaning services for Boynton Beach homes, businesses, and community spaces.

Why TurfDoctor?
To restore the cleanliness and appearance of your artificial grass, you need professional artificial turf repair and cleaning. With industry knowledge and high-quality equipment, the experts at TurfDoctor will have your artificial turf looking as good as new. Our experience and expertise make us the trusted turf specialist in Boynton Beach.
Ensure that your artificial turf is safe, clean, and appealing. Contact TurfDoctor for effective repair and cleaning or to learn more about properly maintaining your synthetic lawn.
CALL NOW
Artificial Turf Cleaning in Boynton Beach, FL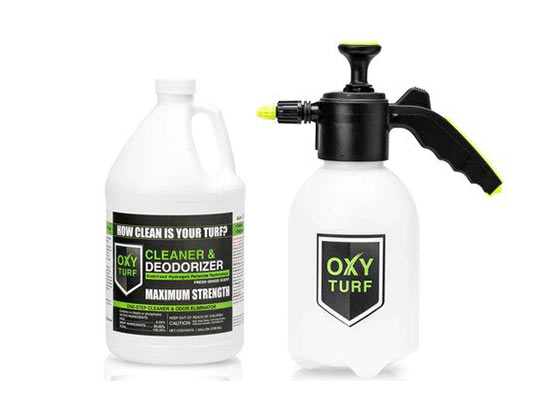 Foot traffic and other common factors can easily dirty artificial turf. While the buildup of dirt, grime, and debris is unsightly, the more significant threat is often invisible. Without regular cleaning, your artificial lawn may cultivate harmful bacteria and viruses, such as MRSA and Staph, that jeopardize health.
The turf specialists at TurfDoctor can combat such issues with our effective cleaning services. Using a synthetic turf cleaner-disinfectant-deodorizer called OxyTurf, we can kill 99.9% of turf bacteria, along with fungus and mildew. Further, OxyTurf leaves behind a pleasant fresh grass aroma to add to your synthetic lawn's appeal.
Artificial Turf Repair in Boynton Beach, Florida
If your artificial grass is suffering from wear and tear or significant damage, TurfDoctor can help. We remove any old, worn-out, or destroyed areas of synthetic lawns and repair damaged surfaces using a replacement piece. With our artificial turf repair, your synthetic lawn will have a brand-new look in no time.
TurfDoctor proudly offers quality artificial turf repair and cleaning services to the residents of Boynton Beach. Located in Palm Beach County, the city of over 80,000 people boasts an enticing suburban atmosphere. The area has outstanding schools, delicious restaurants, relaxing locales, and a plethora of shops and stores to browse. For the active souls, Boynton Beach offers plenty of seaside recreation, fishing, parks, and concert venues that are sure to excite.
Restore your synthetic surface with professional artificial turf repair and cleaning in Boynton Beach from TurfDoctor. Contact us today for our high-quality services.
Customer Reviews
What People Are Saying about TurfDoctor
"We've got 2 German Shepherds, all the hair, odor and waste are all gone!"

"Our turf looks like the first day it was installed! These guys are so professional and get the job done!"

"We tried everything to get our turf to smell fresh, nothing worked, the TurfDoctor's made our turf look and smell fresh instantly!"

"If you want your turf to look like the first day you got it? Call the TurfDoctor's!"

"Had another quarterly service, we are so happy with TurfDoctor!"

"I never write reviews, but I tried everything to make my turf look and smell fresh. Nothing worked. THESE GUYS WORK! Highly recommend them."
Contact TurfDoctor Today!
You Need Service? Count on TurfDoctor, we make your green instantly clean so you can get back to enjoying your artificial grass again. Send us a message, and we will respond as quickly as possible.
Call Us at TurfDoctor Today
Call us at 1-888-988-7336 to get started with TurfDoctor's artificial grass installation, repair, or cleaning services.
We bring your vision to life!