Artificial Turf Repair and Cleaning in Palm Beach Gardens, FL
Step up to a cleaner & greener artificial turf with us
Your artificial turf in Palm Beach Gardens, FL, undergoes constant environmental impacts and wear and tear from use. Whether you have artificial turf at a residential or commercial property, foot traffic, heavy objects, or tiny paws, everyday activities can dirty the surface. Over time, your artificial grass will look beat up and need restoration.
TurfDoctor is the top resource for artificial turf repair and cleaning services for Palm Beach Gardens homes, businesses, and community spaces.

Why TurfDoctor?
When restoring your synthetic lawn, you need artificial turf repair and cleanings from a trusted company in Palm Beach Gardens. At TurfDoctor, we have the equipment and experience to be your synthetic turf specialists. With efficient repairs and cleanings, your artificial lawn will look and feel as good as new.
Ensure that your artificial turf stays in top shape. Trust the experts at TurfDoctor for all of your synthetic turf needs. Contact us today to learn more about how to maintain your artificial lawn.
CALL NOW
Artificial Turf Repair in Palm Beach Gardens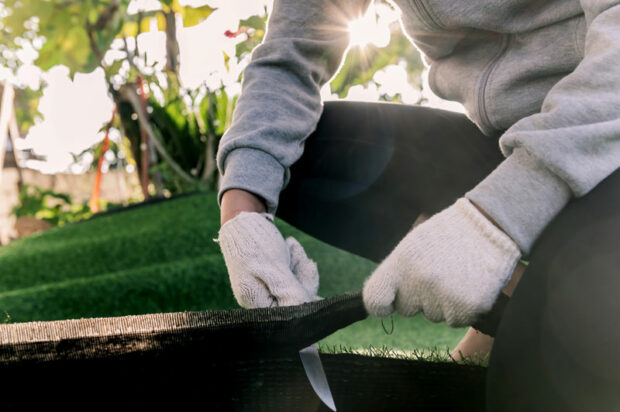 Artificial turf is durable and can last years, but it's still susceptible to typical wear and tear and significant damage. A synthetic lawn can tear or deteriorate, but TurfDoctor can repair damaged areas.
First, we remove the old, worn-out, or destroyed areas of your artificial lawn. Then, we use a replacement piece of turf to patch up the surface. The result is a synthetic lawn that looks brand-new and beautiful.
Artificial Turf Cleaning in Palm Beach Gardens, Florida
Constant foot traffic and other factors can dirty artificial grass. Over time, mold and mildew may grow underneath the surface, and your turf can harbor bacteria and viruses like Staph and MRSA. Regular maintenance and cleaning are vital to protect the health of you, your family, your pets, and anyone else that spends time on your artificial lawn.
At TurfDoctor, we use a synthetic turf cleaner-disinfectant-deodorizer called OxyTurf to kill bacteria and viruses. OxyTurf works on contact and kills 99.9% of turf bacteria. The cleaner kills fungus and mildew and leaves a pleasant fresh grass scent behind.
Serving Palm Beach Gardens, FL, and the Surrounding Areas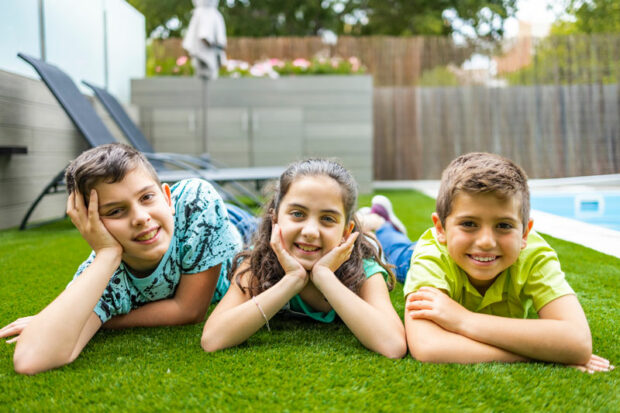 Located in Lantana, TurfDoctor proudly serves the surrounding areas, including Palm Beach Gardens. Palm Beach Gardens has a growing community of around 60,000 residents. The city boasts beautiful weather, impressive golf courses, retail stores, parks, and restaurants to keep locals and visitors busy.
Artificial turf surfaces in Palm Beach Gardens require more maintenance than you think. Walking, running, and other activities can leave a synthetic lawn dirty and torn up.
TurfDoctor provides high-quality artificial turf repair and cleaning in Palm Beach Gardens to restore your synthetic surface. Contact us today for professional service.
Customer Reviews
What People Are Saying about TurfDoctor
"We've got 2 German Shepherds, all the hair, odor and waste are all gone!"

"Our turf looks like the first day it was installed! These guys are so professional and get the job done!"

"We tried everything to get our turf to smell fresh, nothing worked, the TurfDoctor's made our turf look and smell fresh instantly!"

"If you want your turf to look like the first day you got it? Call the TurfDoctor's!"

"Had another quarterly service, we are so happy with TurfDoctor!"

"I never write reviews, but I tried everything to make my turf look and smell fresh. Nothing worked. THESE GUYS WORK! Highly recommend them."
Contact TurfDoctor Today!
You Need Service? Count on TurfDoctor, we make your green instantly clean so you can get back to enjoying your artificial grass again. Send us a message, and we will respond as quickly as possible.
Call Us at TurfDoctor Today
Call us at 1-888-988-7336 to get started with TurfDoctor's artificial grass installation, repair, or cleaning services.
We bring your vision to life!