Artificial Turf Repair in Delray Beach, Florida
Got Turf Damage? Get Turf Repair!
Because it's a synthetic surface, you might not think your artificial turf requires much maintenance. In reality, artificial lawns in Delray Beach, FL, get dirty and damaged over time. Whether you have artificial turf at a residential or commercial property, foot traffic, and other everyday factors can leave the surface needing restoration.
When you want to repair or clean your artificial lawn, TurfDoctor is the company to call. Our experience in the industry makes us your trusted source of all artificial turf services. Contact us today to learn more about proper synthetic lawn maintenance.
TurfDoctor is the top resource for artificial turf repair and cleaning services for Delray Beach homes, businesses, and community spaces.

Why TurfDoctor?
TurfDoctor offers professional artificial turf repair to return your artificial grass to its original quality. Our experts in Delray Beach have the proper equipment and knowledge to ensure your synthetic lawn is appealing and safe for use. We repair artificial turf by removing any damaged areas and inserting a replacement piece, resulting in artificial grass that looks and feels as good as new.
Ensure that your artificial turf stays in top shape. Trust the experts at TurfDoctor for all of your synthetic turf needs. Contact us today to learn more about how to maintain your artificial lawn.
CALL NOW
Artificial Turf Cleaning in Delray Beach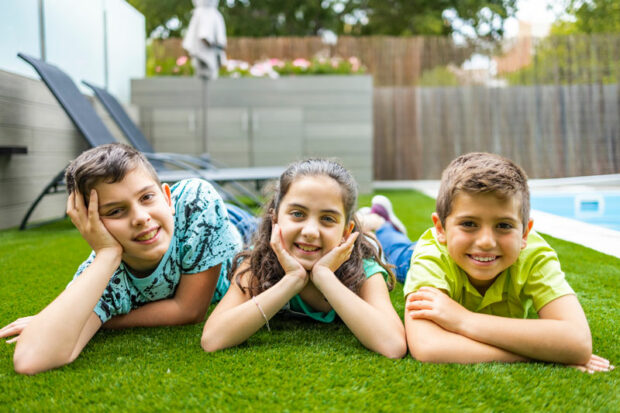 Numerous factors can make your artificial turf dirty, whether at a residential or commercial property in Delray Beach. Things like natural debris or kids and pets running around on the lawn leave behind grime that builds up over time. That buildup can result in bacteria, mold, and mildew developing on and underneath the turf's surface.
Professional artificial turf cleaning is the best solution to combat dirt and bacteria. At TurfDoctor, we use a synthetic turf cleaner-disinfectant-deodorizer called OxyTurf to kill bacteria and viruses. OxyTurf works immediately on contact, killing fungus, mold, mildew, and 99.9% of bacteria. The cleaner also leaves behind a pleasant fresh grass scent.
If you need artificial turf repair, consider a routine cleaning as well. Regular maintenance is vital for creating a safe environment for your kids, pets, employees, and guests who might walk on your synthetic lawn.
Artificial Turf Repair and Cleaning in Delray Beach, FL
Home to around 67,000 residents, Delray Beach is a gorgeous growing city in Palm Beach County. The area's beach and water access allow incredible swimming, snorkeling, and scuba diving. The downtown stretch has plenty of restaurants, entertainment, and nightlife to satisfy any fun-seeking soul. Delray Beach is also home to unique Japanese art and culture, with several bonsai gardens and museums to explore.
Efficiently and effectively restore your artificial grass. Contact TurfDoctor today for high-quality artificial turf repair and cleaning in Delray Beach, FL.