Synthetic Grass in Jupiter, Boca Raton, Delray Beach, West Palm Beach and Surrounding Areas
5 places where you can use synthetic grass in your house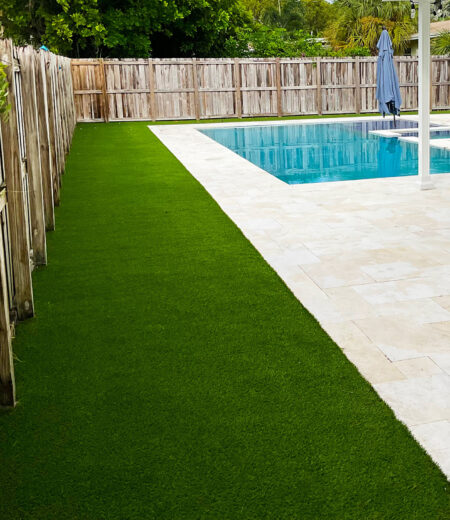 TurfDoctor provides synthetic grass in Jupiter, Boca Raton, Delray Beach, West Palm Beach, Wellington, Palm Beach Gardens.
Here are five places where you can use artificial grass.
Backyard or Garden: Synthetic grass can be used in your backyard or garden area to create a low-maintenance and visually appealing outdoor space. It provides a lush, green look all year round without the need for mowing, watering, or fertilizing. You can use it to cover the entire area or create specific sections such as a play area, seating area, or putting green.

Rooftop Terrace: If you have a rooftop terrace or balcony, synthetic grass can transform it into a cozy and inviting space. It adds a natural element to the otherwise concrete or tiled surface, making it more comfortable and visually pleasing. You can create a small garden oasis, an outdoor seating area, or even a mini putting green on your rooftop using synthetic grass.

Indoor Playroom or Recreation Area: Synthetic grass can be used indoors to create a playroom or recreation area for both kids and adults. It provides a soft and safe surface for activities such as playing, exercising, or practicing yoga. The synthetic grass can be installed directly on the floor or as removable mats, allowing you to easily transform any indoor space into a green and playful area.

Pet Area: If you have pets, synthetic grass can be used to create a designated area for them to play, relieve themselves, or simply relax. It is easy to clean and maintain, ensuring a clean and odor-free space for your furry friends. Synthetic grass also eliminates the issues of mud or dirt patches, which can be a common problem in natural grass areas where pets spend a lot of time.

Aesthetic Décor: Synthetic grass can be used creatively for aesthetic purposes inside your home. It can be applied on walls or as decorative elements to bring a touch of nature indoors. For example, you can create a green accent wall in your living room, install a grass panel on the ceiling to add a unique texture, or use synthetic grass as a backdrop for a photo or art display.
Remember to choose high-quality synthetic grass that is suitable for your intended use and climate conditions to ensure durability and longevity. Please call us without any hesitation.