Synthetic Grass and Turf Installation in Port Salerno, FL
Keep your artificial lawn looking its best with our cleaning services
For the best synthetic grass and turf installation services in Port Salerno, FL, trust the team at TurfDoctor. Call today!
Although most Port Salerno, FL, residents like the way grass compliments their homes' exterior, few enjoy keeping up with its maintenance requirements. The constant fertilizing, cutting, and watering can take a good chunk out of your weekends, preventing you from spending time with your family. Fortunately, TurfDoctor offers exceptional artificial grass and turf installation that provides nearly all the benefits of natural grass without strenuous maintenance.
TurfDoctor in Port Salerno, FL is a one-stop shop for all synthetic turf and fake grass needs. From artificial turf cleaning to synthetic grass installation, TurfDoctor has you covered.

Why TurfDoctor?
Whether you need a replacement piece to patch up your artificial lawn or sanitation services to remove residue, TurfDoctor is your first choice. We can repair damaged artificial grass on residential and commercial properties for cost-efficient prices. Our knowledgeable crew helps residents and business owners looking for high-quality artificial turf maintenance with a low price tag.
Ensure that your artificial turf stays in top shape. Trust the experts at TurfDoctor for all of your synthetic turf needs. Contact us today to learn more about how to maintain your artificial lawn.
CALL NOW
Synthetic Grass in Port Salerno, FL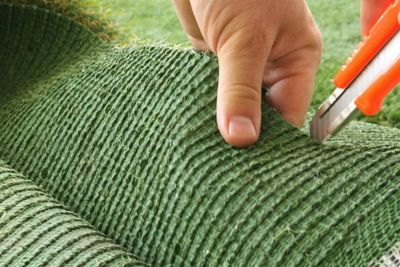 Maintaining a natural grass lawn is often as laborious as it is time-consuming. However, replacing it with realistic synthetic grass or astro turf will make the constant upkeep a thing of the past while helping you maintain your Port Salerno, FL, home's beautiful appearance. One of our turf experts will work with you to find the best artificial grass for your property and install it without delay.
We only carry the best artificial turf in the industry and provide several other services that will help you keep it in pristine condition throughout the year. These services include, but aren't limited to:
Artificial turf installation
Artificial turf repair
Artificial turf maintenance
Artificial turf cleaning
Contact TurfDoctor for All Your Synthetic Grass Needs in Port Salerno, FL
About Port Salerno, FL
Port Salerno, FL, is a relatively small city known for its bustling fishing community. It's home to several esteemed sports fishing tournaments, and people from all over the nation put their fishing skills to the test. Guests can also explore Sandsprit Park before heading to the Port Salerno Seafood Festival, where they can feast on some of the best seafood the state has to offer.
Whether you're an avid sports fisherman or enjoy scenic waterfront views, Port Salerno is the perfect place to escape the hectic city life and relax with friends and family.
Customer Reviews
What People Are Saying about TurfDoctor
"We've got 2 German Shepherds, all the hair, odor and waste are all gone!"

"Our turf looks like the first day it was installed! These guys are so professional and get the job done!"

"We tried everything to get our turf to smell fresh, nothing worked, the TurfDoctor's made our turf look and smell fresh instantly!"

"If you want your turf to look like the first day you got it? Call the TurfDoctor's!"

"Had another quarterly service, we are so happy with TurfDoctor!"

"I never write reviews, but I tried everything to make my turf look and smell fresh. Nothing worked. THESE GUYS WORK! Highly recommend them."
Contact TurfDoctor Today!
You Need Service? Count on TurfDoctor, we make your green instantly clean so you can get back to enjoying your artificial grass again. Send us a message, and we will respond as quickly as possible.
Call Us at TurfDoctor Today
Call us at 1-888-988-7336 to get started with TurfDoctor's artificial grass installation, repair, or cleaning services.
We bring your vision to life!